Madison general contractor receives top honors for national retailer's corporate headquarters
National Construction has been recognized as a 2019 Associated Builders & Contractors (ABC) of Wisconsin Projects of Distinction Award recipient.  The firm was awarded a Silver in the Commercial Over $10 Million category for the construction of the Duluth Trading Company Corporate Headquarters.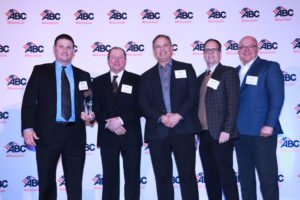 Pictured are Mike Trapino, Jeff Blynn, and Bernie Lange of National Construction with Scott Kramer and Michael Sobczak of Plunkett Raysich Architects .
The five-story, 108,000 square foot corporate headquarters was constructed for Duluth Trading Company in cooperation with National Construction's sister company, developer TRI Holdings. It changed the "skyline" of the Madison bedroom community, spurred downtown development, and highlighted a key recreational resource – the Military Ridge Bike Trail.
The exterior features materials and architecture reflecting the industrial, railroad history of the area.  The design incorporates red brick masonry, industrial sash windows, concrete, and zinc-colored metal cladding, and gives the appearance of a building constructed over time.  The combination of materials allows the building to blend into the surrounding landscape.
The interior features include reclaimed wood, industrial stainless steel cabling and black metal work, structural X bracing, concrete like tile and exposed trusses and HVAC.
The design incorporates many different areas for the national retailer to display their iconic graphics and powerful employee communication. Unique features include a 4,000 square foot employee lounge called "The Canteen" and an adjacent 2,000 square foot outdoor patio. The building also features underground parking, bike storage, a workout facility, yoga and locker rooms.
"We are honored to be recognized for our work on a project that will continue to have a pivotal impact on its community and surrounding businesses," said Mike Trapino, National Construction General Manager.
The Projects of Distinction Awards recognizes merit construction projects that meet stringent standards for safety, unusual circumstances, challenges, distinctiveness and overall quality of construction.  Fifty-four projects were recognized at the event, each evaluated by seventeen independent judges who have expertise in construction.  The awards were presented February 13 at the Glacial Canyon Conference Center in the Wisconsin Dells.  For more information, visit the ABC of Wisconsin website.