Written by Jan Wilson, excerpted from In Business Magazine's November 2020 issue. Read the full article here.
COVID-19's construction impacts include less material availability, higher prices, and potentially a long-term suppression of demand for office space.
When InBusiness published its annual "What's Going Up" feature in February profiling 24 projects scheduled to be completed throughout Dane County in 2020, a global pandemic was little more than a plot in a science fiction movie.
We checked back with some of the contractors featured in February to see how COVID-19 had impacted their completion dates, if at all. Several declined to be interviewed, but others offered some insight not only into their local success but also projected how the pandemic may impact construction well into the future.
Jeff Grundahl, who co-owns JG Development [and its division National Construction] with his wife, Mary, was in the process of building the new Hotel of the Arts/Baymont Inn & Suites on Coho Street in Madison. In February, the project was on track to be completed in July. Now the plan is to open before the holidays.
Baymont is a brand of Wyndham Hotels, and delays, Grundahl says, were due primarily to other factors. That said, he adds that COVID has impacted hotel construction as well as his job as a contractor.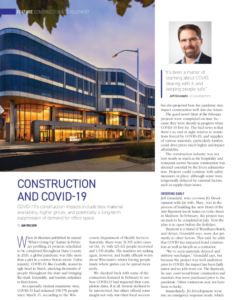 "We've seen materials delayed and delivery surcharges," Grundahl says, but because the project was well underway prior to COVID, the impact has been fairly minor and no jobs were cut. The Baymont, he says, used wood-frame construction and materials that were purchased prior to the pandemic. Other contractors may not have been so lucky.
Immediately, JG Development went into an emergency response mode, which included things the company hadn't  considered previously — how to mask up, how to clean tools, and handwashing protocol. At the time of this interview, no employee had gotten sick with COVID-19. "We dedicated one person to safety supply delivery, sent him out in a truck with every kind of hand sanitizer solution we had, and had him rotate job sites every day," Grundahl notes.
Taking quick decisive action was important but so was adaptability because in the early days of the pandemic, the government's guidance could change on a dime. "It gave our team confidence that we had control because the information we were getting from authorities seemed to change every six minutes; it  became a full-time job for several people in our company."
Conversations are different now, he notes, regarding management systems, the number of employees allowed in a room, and entryways and exits as contractors and business owners figure out the new normal. Discussions tend to be about separating people and not requiring them to be congregated in one space. "Flexibility is key," Grundahl says.
"As a company, we already had several people trained in airborne particulate management like lead and asbestos," he adds. "It's been a matter of learning about COVID, dealing with it, and keeping people safe."
The pandemic has led to a shortage of Plexiglas, he says, which is being used worldwide to keep face to face interactions at a minimum, and the lumber industry has been very hard-hit, forcing prices to skyrocket. The shortage has also affected the availability of treated lumber and plywood. "It's very hard to get lumber," Grundahl states. "There's no availability and prices rose 100%, 150% in many cases."
Most lumber mills are located in the southern U.S., and some lumber comes from Canada. When the pandemic first hit, the mills furloughed most of their staffs in anticipation of a sharp decline in demand, but there was no such falloff. "Businesses sent everyone home to work virtually and it seems they all wanted to do a home DIY project!" Grundahl notes. "Nationally, we haven't seen any major slowdowns in construction starts related to housing, so the supply chain petered out on fear of COVID and staff reductions. "Now, due to COVID restrictions, the number of employees that mills can call back are not enough to keep up with the standard demand for lumber much less a deferred demand over several months," he adds. "It's created a storm in the lumber industry and is now being discussed at the federal level to try to figure out what they can do."
The aforementioned storm has caused delays in construction of several months, with projects that were supposed to start in spring not breaking ground until late summer. In Grundahl's words, now everyone is "over-the-top busy," picking up jobs that should have been completed in September but just started in August.
The biggest challenge is that nobody knows for certain how things should be done, he explains, especially when contractors are trying to manage the expectations of authorities and staff and the public. "Everyone has their own opinions and there are very few facts. It makes it tough."
Given what has transpired, Grundahl  predicts COVID-19 will impact construction for years to come. "But I also believe the pendulum will swing back. Americans are Americans, and we'll go back to our standards as quickly as the world allows us."