Madison-based general contractor National Construction breaks ground on 85-room Coho Street project set to bring 24 jobs in summer 2020
National Construction held a groundbreaking ceremony Tuesday to mark the construction start for the Hotel of the Arts Baymont Inn & Suites at 2810 Coho St.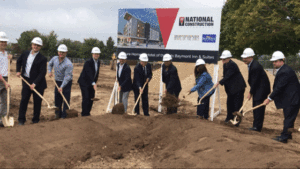 City of Madison District 14 Alder Sheri Carter spoke at the event, along with co-owners Karl Rajani and Pat Prabhu, National Construction owner Jeff Grundahl, and People's State Bank Vice President of Commercial Banking David LaBrie.
Ald. Carter noted the positive impact a walkable place of employment will have on her neighborhood, one of the most diverse in Madison, and the convenience of the location, near the Todd Drive-Beltline intersection.
Local commercial general contractor National Construction and its subcontractors also represent the local impact of the project. "At National Construction, our goal is to partner with owners and projects that foster community. Bringing a hospitality facility like this to this community will have lasting and positive impacts that extend far beyond the walls of the building," said Jeff Grundahl, co-owner of the firm.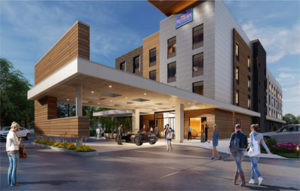 Expected to create 24 jobs when it opens in summer 2020, the 37,571 square foot hotel was designed with a focus on aesthetics, art and technology. The four story, 85-room hotel layout incorporates a bar, breakfast area with pantry, and pool, hot tub and fitness facilities, and will provide in-room streaming services and shuttle transportation to area destinations. The exterior will feature a large covered entrance and a combination of fiber cement, brick and metal siding.
Co-owners Karl Rajani and Pat Prabhu are former Madison residents who also own a Hotel of the Arts Days Inn & Suites in downtown Milwaukee. Rajani noted the shared values of those involved in the project, including Ald. Carter, National Construction, the financing firms and Madison-based family members who will be involved in the business.
"Madison is an all-American city. With the university, state government, and high tech companies located here, it is a vibrant, progressive city that will continue to grow. We are pleased to have the opportunity to do business in this community," Rajani said.
The project is scheduled to be completed in summer of 2020 by commercial general contractor National Construction, a division of JG Development, headquartered in Madison and Blue Mounds. The architect for the project is Owen F. Slagle III of Verona, Pennsylvania.