Madison general contractors celebrated a major milestone at the Duluth Trading Company corporate headquarters project in Mount Horeb, Wisconsin.
On Wednesday, April 18, Madison general contractors National Construction hosted a "Topping Out" event at the Duluth Trading Company corporate headquarters to celebrate completion of the roof and closing in of the structure.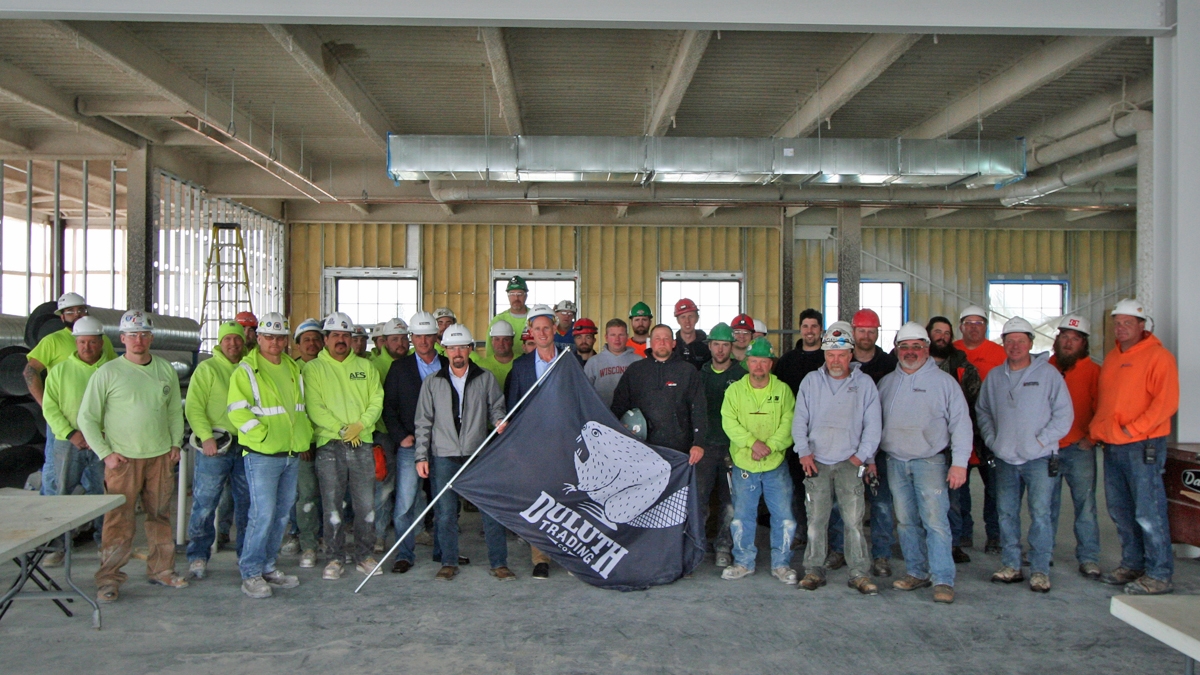 The Madison general contractors raised a flag in the client's honor and recognized the construction team with a cookout.  Workers were thanked for their hard work in reaching this milestone and ensuring progress toward completion in October.
The five-story, nearly 100,000 square foot corporate headquarters for the national retailer has replaced a dilapidated assortment of buildings along Front Street in Mount Horeb, with construction starting in early 2017.
Materials and architecture reflect the industrial, railroad history of the area and feature the adjacent Military Ridge Bike Trail. The design incorporates brick masonry, industrial sash windows, concrete, and zinc-colored metal cladding, and will give the appearance of a building constructed over time.
National Construction is a general contractor with Mount Horeb area roots dedicated to partnerships that drive economic growth. Our portfolio of work includes commercial remodeling, commercial renovation and new construction for the businesses and services most important to a city's residents, like childcare, healthcare and government facilities, and housing, retail and hospitality.
Duluth Trading is a rapidly growing lifestyle brand for the Modern, Self-Reliant American.  They offer high quality, solution-based casual wear, workwear and accessories for men and women who lead a hands-on lifestyle and who value a job well-done. They provide customers an engaging and entertaining experience.  Their marketing incorporates humor and storytelling that conveys the uniqueness of their products in a distinctive, fun way, and their products are sold exclusively through a content-rich website, catalogs, and "store like no other" retail locations. They are committed to outstanding customer service backed by their "No Bull Guarantee" – if it's not right, they'll fix it. Visit their website for more information.
Follow the project's progress on the National Construction website.