As Dane County continues to re-open, business and community leaders may be returning to expansion plans they abandoned in mid-March because of the pandemic.
Through the spring, construction and development continued with minimal interruption, and the next 6-12 months may offer some unique advantages for organizations considering facility improvements or a new building.
First, organizations may find additional or improved financing options.
Mortgage interest rates are at all-time lows and not expected to rise for some time. While there are many determining factors, commercial financing typically follows residential, with shorter amortization periods.
If organizations themselves weren't limited through the spring, their bankers may have been. Most local banks were unable to process traditional loan applications for months due to overwhelming demand for the Paycheck Protection Program (PPP).  Demand has lessened, and banks are starting to return to business as usual.
Second, facility improvement planning may require less logistics.
With many organizations operating with all or a percentage of staff working from home, now may be a particularly advantageous time to update facilities, as temporary work space during construction won't need to be created.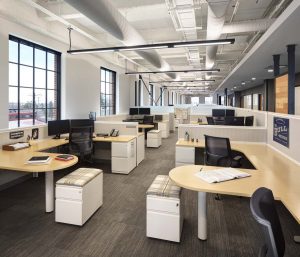 In addition, some organizations may want to adjust the design of shared workspaces to allow for some or all employees to return to offices before a vaccine or other treatment is available, or plan ahead for prevention.
What about construction pricing?
National Construction's current experience is showing any potential decreases in material pricing can be eliminated by pandemic-related supply chain interruptions that are increasing prices and lead times. Our firm has found this to be true for flooring related products, granite and other surfaces used in many commercial applications, and others. So far, our firm has found pricing to be relatively stable, though our team is making every effort to find cost savings for our clients and has been able to do so with project commitments to subcontractors and suppliers. These commitments can mitigate the challenges created by schedule changes or project cancellations.