Your business is growing, and you're at a crossroads on how best to expand. Is remodeling right for you, or should you start from scratch and build new?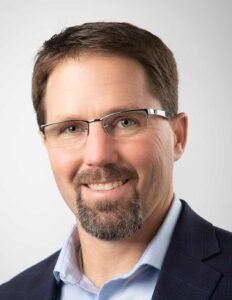 Last year, Jeff Grundahl, owner and chief executive officer of Madison-based general contractor JG Development and its divisions (including National Construction), had to make a decision he's helped countless clients make: Relocate to an existing space and remodel, or opt for new construction?
In the end, JG Development determined that remodeling the former State Bank of Cross Plains building at 455 S. Junction Road on Madison's west side was the best option for relocation of its corporate offices, and renovation has been ongoing since spring.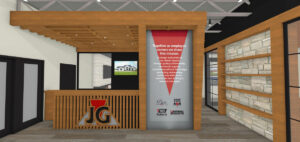 "Because we bought an existing bank facility that had offices separate from the lobby, we were able to renovate the lobby space into our client center," Grundahl says (see rendering at right). "That space probably would have been scaled down in a new building because of either site or budget constraints."
Grundahl's less-costly decision to remodel also offered several other built-in advantages over new construction, especially given the current price of building materials. But while remodeling offers multiple benefits to business owners, so does new construction. Grundahl outlines what business owners need to know about both options, noting that with either choice, occupancy can be phased in over several months or years.
Remodel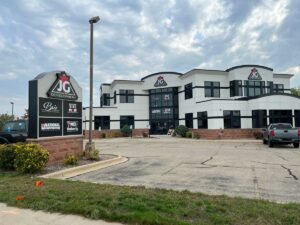 Advantages to this approach include a faster timeline for occupancy, not only because the space already exists but also because costly sitework and time-consuming approval processes usually have already been completed, or are at least accelerated as compared to new construction. And in Madison, where Broadwing Advisors reports that the overall office market vacancy rate for Q2 2023 was 12.9% — up more than 3% over Q3 2020 and higher than most property management firms are comfortable with — business owners might be able to negotiate more favorable rate options.
Disadvantages include expansion limitations determined by existing size constraints, aging mechanical systems, and accessibility shortcomings such as lack of an elevator, which is an expensive add-on.
New Construction
The most obvious advantage to new construction is that "you get exactly what you want and can afford," Grundahl says, adding that the building will retain its value longer simply because it's newer. It also will be code-compliant in every aspect of operation, which is not always a given with an existing building.
Disadvantages include a higher price tag than a remodel project, a longer timeline, and lengthy permitting, appraisal, and entitlement processes. "We've done a major, major renovation here at our own facility," he says of JG Development's new 17,000-square-foot space. "And we couldn't have even considered building this size with new construction."
National Construction can help your business grow
This article is excerpted from In Business Magazine's October issue. Explore the issue's full Commercial Space Guide for more insights.
Thinking of expanding your business? We'd love to talk to you, no matter where you are in the planning process. Get in touch with us, or explore recent projects on our website!