National Construction might be new to you. Let us introduce ourselves:
Our sweet spot is extreme interior renovations. Our in-house carpenters – many who have more than 20 years of experience – are masters of rough and finish carpentry, plus they can handle demolition and general labor. Take a look at our work on the Ancora Coffee Roasters renovation (completed in less than 90 hours!), or how we transformed a dilapidated 1920s building into a benchmark women's fraternity – for proof. But we do it all – we've completed almost 200 new construction, addition and renovation projects in our nearly 30 years in business.
We're one of four divisions of JG Development. Our parent company provides additional resources for our clients like real estate, zoning, financing and more. A commercial sister division, NCI-Roberts Construction, builds and transforms churches; residential sister divisions Brio Design Homes and Vive Home Transformations are master custom home builders and remodelers. You will benefit in obvious and unseen ways from our cross-disciplinary expertise.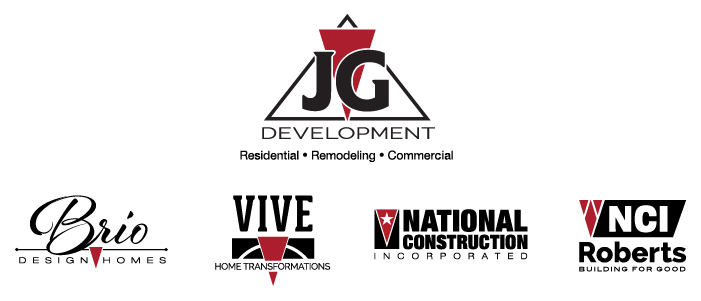 We're really proud of our work in Mount Horeb. Our owners Jeff and Mary Grundahl have family history going back several generations in Mount Horeb, and they are both very involved in its community organizations. In 2015, we built three projects that anchor the eastern gateway to the village: the GrandStay Hotel & Suites, Academy of Little Vikings, and Sjolinds Chocolate Factory. And we're honored to be building new headquarters for Duluth Trading Company and a 1912 farm implement-turned event facility in the heart of downtown.
We're passionate about working as team. Rather than the traditional design-bid-build process (which we're still happy to be part of), we find that having a contractor involved in the project at the very beginning, working in partnership with an architect, is the most effective use of our clients' funds.
At one time, people confused us with Target. We were founded in 1990 as Target Development, a name inspired by a target masonry saw. When the discount retailer reached the Madison area, people in the construction industry associated us with building their stores. So, we decided to change our name. National Construction describes the community focus of our building experience, and our vision to partner with business owners and architects across the nation.